The holidays are almost here and you still have a couple beer lovers on your list. While time may be running out to shop for the perfect gift to give your stout lover, we're got a collection of items that can still be delivered in time for the holidays. Check out this last minute beer lovers gift guide for 2016.
Miir Stainless Steel Insulated Howler
Beer lovers are bound to happen upon many brews they'd love to bring home and there's no better way to do so than with a growler. The Miir Stainless Steel Insulated Howler is a super high-quality growler make for keeping your beer safe and fresh on the journey from brewery to the home. It's insulated so the beer will stay nice and cold for up to 24 hours. And the finish makes it tough and ready for a life filled with beer fills.
Plus, for every Miir product you buy, they work with nonprofit organizations to supply one person with clean water for a year. Great gift for your beer lover and the gift of clean water for someone in need. Win-win.
Grab your beer lover a Miir Stainless Steel Insulated Howler on Amazon right now. They also offer a larger 64oz growler too.
The Comic Book Story Of Beer
Gift the beer lover on your list a bit of history this holiday. The Comic Book Story of Beer tells the evolution of beer in a way they haven't read before, through great comic book styling.
The wonderfully detailed art makes the story even more immersive and they share many interesting bits of information most beer fans haven't heard before. It's a great way to learn about our favorite beverage, in a fun and interesting way.
Grab a copy of The Comic Book Story Of Beer from Amazon today.
Craftsman Bottle Opener Screwdriver
Everyone lovers their tools. Be it for fixing stuff around the house or getting into our favorite bottle of brew, we all need the right tool to get the job done. The Craftsman Bottle Opener has the familiar handle of the Craftsman screwdrivers but with a much more handy tool at the other end.
Being a Craftsman product, it comes with a lifetime warranty, so no matter how many bottles your beer drinker pops, they can always be sure their bottle opener will never fail them (or Craftsman will replace it for free).
Add the Craftsman Bottle Opener Screwdriver to your beer lover's toolbox today, by ordering on Amazon now.
BACtrack Mobile Pro
We love beer, but sometimes we overindulge. That might be fine when the only consequence is a hangover the next day, but for those driving back from the beer bar, things can be much worse. Give the beer lover on your list a little help knowing when to say when.
The BACtrack Mobile Pro helps beer drinkers monitor their alcohol intake and know when it's time to switch from that barleywine to something with a bit less bite.
This smartphone connected breathalyzer allows the user to track results over time, share them with friends and family, and even call for an Uber, if they've had too much. It uses the same style measuring device that the police use, so you know the results are accurate and can be trusted.
Order a BACtrack Mobile Pro from Amazon today, and be sure your beer lover stays safe so they can continue enjoying many more beers to come.
The Oxford Companion Of Beer
Beer lovers crave knowledge. In addition to learning about our favorite breweries, we love to explore more about beer itself. How it's made, why it tastes the way it does, what makes it this way or that. The Oxford Companion To Beer is a reference packed with all kinds of information about brew.
The pages of this beer reference are filled with more than 1,100 entries from A to Z and contain information on items of interest to the inspiring beer brain. Edited by Brooklyn Brewery brewmaster Garrett Oliver, this is a reference any beer fan will enjoy and a great coffee table (or bar) book to have handy. They're sure to find themselves paging through and learning a thing or two.
Pick up a copy of The Oxford Companion Of Beer from Amazon and help to build a more educated beer lover in your life.
ReGrained Bars
Looking for a tasty treat to stuff the stocking of your favorite craft beer lover? ReGrained are granola bars made from upcycled beer grain. After brewing, there's still tons of great nutrients left in brewers grain. ReGrained takes this great stuff and makes it into delicious and nutritious granola bars.
In both Honey Almond IPA and Chocolate Coffee Stout, these bars are the best thing you can have for breakfast (when you can't have a beer).
Grab a box of ReGrained bars from Amazon and make sure to stuff their stocking with plenty of beer-friendly joy.
Spiegelau Craft Beer Glass Set
Your beer lover wants the fullest experience when enjoying any beer, and glassware plays a big role in the way we experience our brews. Help them experience their beers in the best way with this set of Spiegelau glassware.
Each of the Spiegelau Craft Beer Glass Set pieces was specially designed to bring out the very best. It includes a 21oz stout glass, a 19oz IPA glass, and a 26.5oz witbier glass, each created by a panel of master brewers and beer industry professionals, to deliver the complex aromas and flavors to the drinker for optimal enjoyment.
Get your craft beer fan the Spiegelau Craft Beer Glass Set from Amazon and give them the gift of greater beer enjoyment in the new year.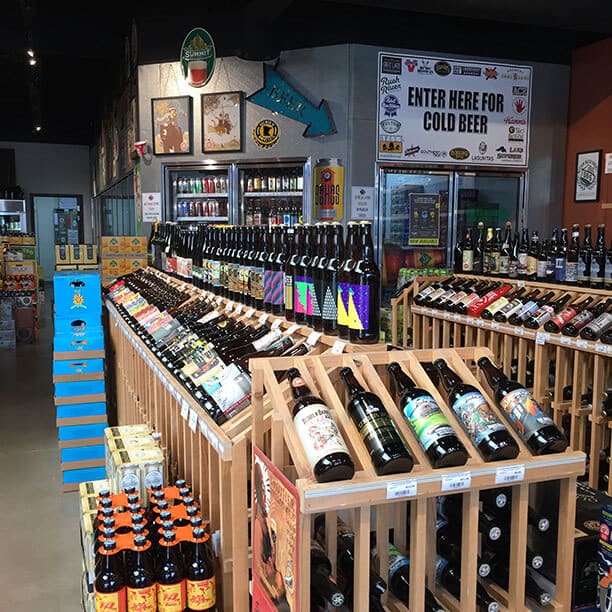 Beer From Your Local Liquor Store
For all the beer gadgets, books, glassware, and bottle openers out there, at the end of the day, your beer lover might be happiest with the focus of their obsession, beer.
A trip to your local liquor store with a great craft beer selection may be the key to giving them just what they want this holiday season. Put together a sampler pack of treats they may not have tried or ask the knowledgable staff what's new and interesting.
Not only will you be getting your beer fan something they love, you'll also be supporting small liquor stores that work hard to bring us great beer choices.
Beer Lovers Gift Guide
Time may be running low but you don't need to stress. Shopping for craft beer lovers isn't hard. The truth is we love most everything related to this passion we share. It doesn't matter if you pick something that can be shipped last minute from Amazon above, or visit your local good beer store. No matter what you give this season, it's sure to be a hit. We can all drink to that.