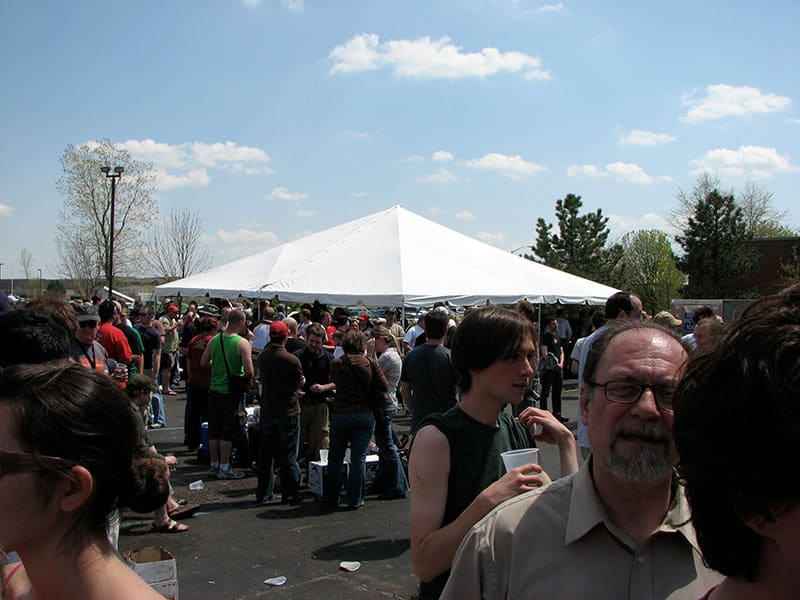 As number of craft brewers across the country has grown, so have the number of beer fests. These events offer an awesome opportunity to try countless samples from tons of brewers in one place. But how do you know which ones to check out and which to skip? Here's how to spot a bad beer fest.
7 Signs To Spot A Bad Beer Fest
There's nothing worse than looking forward to an awesome beer event, only to be let down and feel like you wasted your money. You can avoid the bad beer fest by watching out for these seven red flags.
1) Discounted Tickets
With the growth of craft beer comes many opportunities for others to profit from the amazing community brewers have built. Sadly, there are plenty of those out there that know nothing about running a beer fest and simply see it as a way to make money.
Discounted tickets are a good sign that something is up. This is especially true if the fest is offering tickets on Groupon, LivingSocial, or similar sites right from the start.
Beer fests should be about giving attendees the opportunity to try great brews but discounted tickets are a sign that those running the event are more interested in packing people in and making a profit. Avoid those that look to lure you in with a discount.
2) Check The Program
Take a look at the program to see if a beer fest will be badass or bust. Festival websites often have programs from previous years, which include a list of brewers and what they brought along.
Check out what brewers brought in the past. If it's just year-round offerings, that can be a sign of the quality of the festival. Year-round beers are great (and something we often overlook when hunting for the best of a fest) but you may not want to drop the money on attending an event with tons of taps you can get at your local beer bar any time.
With the proliferation of for-profit festivals popping up, many brewers have left it to their distributors to bring the beer. Generally this can be seen when there are only 1-2 beers from a brand in attendance.
3) Look For Longevity
While we aren't saying that first year fests can't be a success, look for those with a record of awesome events.
There are TONS of logistics that go into pulling off a great beer fest. Making everything work together in the first year can be hard. Festivals with a couple years under their belt are far more likely to workout the bumps most experience at first and will likely lead to a better experience for those in attendance.
Some festivals are put on by those that run of number of other great events. If a new fest is run by one of these, chances are you can be assured that they know how to pull off a great event, even the first year. Just be sure to check their track record before you buy.
4) Ask Around
Internet forums, social media, and other resources devoted to beer are filled with folks that have gone to many an event. They're happy to share their experiences.
Generally this is the best way to learn what an event is like from the view of those attending. Just be aware that no single experience should be the definitive attend or don't for a fest. Some may not have attending many other events (and thus may not have much to compare their experience to). Others may not know how to operate or act at such events. Everyone has different expectations of what a beer fest should be.
Gather a good amount of feedback from others before making your decision. The more you have to work with, the better call you can make about attending.
5) Check With The Experts
In addition to asking around, check with the experts that attend beer fests frequently. There are no shortage of blogs and other internet resources with write-ups around beer events.
Find a trusted source to share their experience. Many sites will give you an inside look at which events to attend, what to expect, and how to get the most of your time there.
These folks became trusted resources from attending many events. Most would also be happy to share their insight if you simply reach out and ask.
6) Seek The Stamp Of Approval
Many beer festivals are run by well known beer organizations, like your local brewers guild. These events focus on sharing great beer, rather than making a buck.
Brewers guilds promote the product made by their members and use festivals to introduce attendees to all their awesome offerings.
While these events still need to break even or even turn a little profit for future promotion, they usually exist to enlighten those in attendance. Their payoff comes when someone samples a beer at the festival and loves it enough to seek it outside the event. The price a brewery pays to give away a free sample at a fest, pays off by creating a new customer.
This was the general reasoning behind early festivals and a great sign you'll see brewers bring their best to a beer fest.
7) Look For Local Attendance
With the number of festivals increasing each year, brewers and distributors are being stretched thin. There are only so many events that they can attend each year.
At this point, many have to pick and choose which to go to, and which to pass on. If your favorite local brewers aren't there, that can be a good sign you may want to opt out of it too. While they can only go to a limited number of events each weekend, brewers are great gauges of which to attend and which to avoid. The guys working at the breweries want to have a great time too, and they know which fests at the best.
Lack of local support can be a sign that a fest may not have much to offer.
The Best Fests
There are no shortage of beer events at this point. Where there use to be only a handful each year, there are now festivals almost every weekend in many cities. Knowing how to spot a bad beer fest can save you money, time, and frustration.
By knowing the warning signs of a shitty beer fest, you can optimize your festival-going experience and increase the satisfaction in your sampling.