The time has come to celebrate! 40 years ago, Old Chicago started by combining a love for great food with great beer. In continuing that commitment to the perfect combo, they're throwing one heck of a party, the World's Largest Tap Takeover with Sam Adams on Saturday, July 9th, 2016.
I'll be there and was lucky enough to have Old Chicago give me a preview what's to come at this awesome event. Here are some of the brews you should look to try at the tap takeover.
The World's Largest Tap Takeover
To throw an event this big, Old Chicago partnered with a brewer that's also known for crafting a product people love and has been in the game almost as long as themselves, Sam Adams.
To make this the World's Largest Tap Takeover, Old Chicago will be putting 15 great Sam Adams beers on at 94 locations around the country, including Longshot beers and other specialties. That means more than 1,400 taps will be across the United States at once.
To start out the sampling, I had to go with the beer that started it all. Sam Adams Boston Lager is as much an American classic as the Chicago 7 (Old Chicago's original pizza and still their best seller). This is a beer that has brought many into the craft beer world and still great drinking any time. The slightly sweet caramel flavor upfront is nicely balanced by floral and pine notes from the hops, and a smooth and slightly roasted finish.
The next beer I sampled was the Crystal Pale Ale. This beer hasn't been around for a while but Sam Adams has brought it back for the World's Largest Tap Takeover. It has a wonderful American hop character with notes of citrus and a floral flavor before a nice hop bite with a touch of malt sweetness in the aftertaste. It's a great summer brew and sure to make the hop-heads happy. I'd love to see this one make a full-time comeback.
Sam Adams Noble Pils showcases what a good hoppy pilsner can be. Many still associate pilsners with the beers macro-brewers make but it's nothing like that watered down stuff you may have drank in college. Noble Pils is filled with a complex hop aroma and fresh citrus hop flavors, and a nicely balanced light malt body. When the hot weather hits, pilsners like this are the perfect option.
Sam Adams delighted many when they introduced their Rebel IPA and they've stepped it up even bigger with their Rebel Rouser imperial IPA. Packed with big hop aromas and flavor, it's sure to satisfy the hop-heads in the crowd.
The Perfect Pairing With Pizza
There's no better pair than beer and pizza. When it comes to pizza, Old Chicago has something for everyone.
We all have our favorites and mine is the Chicago 7 with Ale Crust. It's a slightly sweet crust made with brown ale and a zesty sauce, plenty of cheese, then piled high with toppings. It pairs perfectly with any beer you imbibe.
And don't forget the Pepperoni Rolls to get you wanted up before your pie arrives. They're like cinnamon rolls had a pizza baby.
Back For Round Two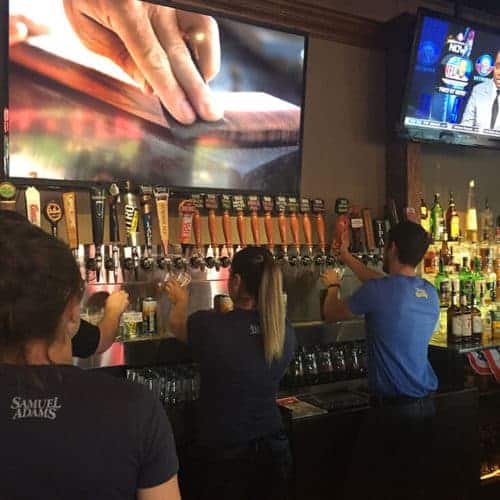 After a break to enjoy a couple slices it was back to the beer.
The Sam Adams Double Bock is their most award winning brew. It's big and bold, with a deep mahogany color, lots of rich caramel sweetness, and a smooth aftertaste that's balanced by a touch of German Noble hops. It's a great after-dinner drink with plenty of weight to wash anything down.
Just for the World's Largest Tap Takeover, Sam Adams brought back some Longshot beers they haven't brewed in while. Longshot is a homebrew competition where the winner gets their beer brewed by Sam Adams. It's an awesome way to highlight the amazing beers people are making in their own homes and showcase the creative spirit from which brewers like Sam Adams were born.
The Longshot Nanzer's is a Belgian Golden Ale that has notes of fruit and light pepper in the nose with a nicely balanced, slightly sweet flavor. The 9.1% ABV adds a bit of warmth in the aftertaste, along with a touch of citrus from the hops.
My favorite of the night was the Longshot Neighborino. This Flanders Red is sure to make the sour fans happy. In the tradition of the style, it's a made of younger beer blended with mature beer that's been aged in wood for several months. Fermented with Brett and Lacto, it's fruity, tart, and acidic. The perfect post-dinner sipper.
Attend The Tap Takeover
To celebrate 40 years of awesome Old Chicago pizza, they've put together an event as big and bold as the food they make. There will be plenty of great beers to choose from and as always, lots of great food to pair it with.
Don't miss your opportunity to try many of these rare Sam Adams brews and raise a glass to 40 years Old Chicago fun on Saturday, July 9th. #Hoppy40thOC
Click here to join the Old Chicago World's Largest Tap Takeover event on Facebook.