Barley John's Brew Pub in New Brighton, Minnesota is celebrating 17 years today! Seventeen years is a very long time in the craft beer game and deserving of celebration. Let's take a look at what makes Barley John's so special and raise a glass.
17 Years Of Barley John's Beers
I first wandered into Barley John's more than 13 years ago. At the time, I was new to craft beer and looking to check out any local spot brewing their own. Soon, I was stopping in 4-5 days a week for a couple pints and plenty of food and friends.
The small brewpub is filled with warm wood, making it feel very cozy and intimate. The bar, and two of the tables in the bar area, are made from a tree cut from John's grandmother's front yard. Blown glass tap handles pour the beers today, just as they did back then.
I quickly became hooked on the beers John was brewing. Well made drinks with a range of styles to choose from. The mainstays, Little Barley Bitter, Stockyard IPA, Wild Brunette, and Old 8 Porter offer something for any mood. Seasonals have always been part of the offerings but the number offered at any one time have grown significantly over the years.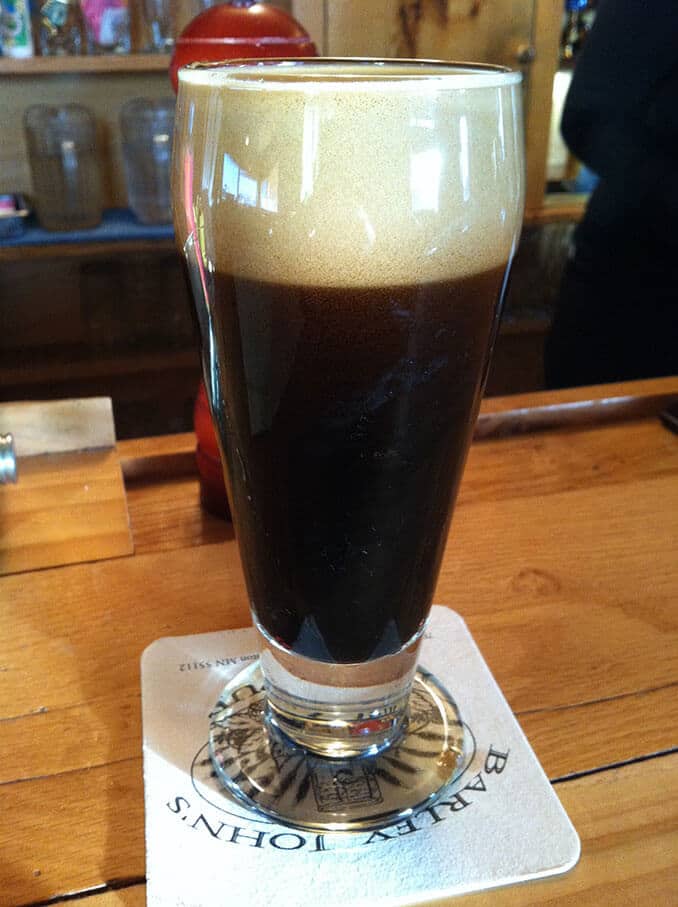 Big beers like Dark Knight, Dark Knight Returns, and Rosie's Ale, have really made a name for the brewpub, especially in the early years when high ABV beers were more uncommon.
Years ago, a server misquoted the ABV on the original batch of Rosie's Ale to a visitor, who brought word back to Sam Adams. Thinking their Utopias had been dethroned, they flew someone out to the pub to take a sample back for testing. Rosie's is still the better choice between the two.
John is very proud of the beers they brew, and rightfully so. They've won numerous awards, including the coveted Snowshoe at Winterfest on many occasions.
Though the big beers are usually the ones getting the attention, John takes pride in more technical aspects of brewing great beer. He once told me it's funny how they get attention for their Dark Knight, where an extra pound of hops or few minutes on the boil would go unnoticed. But beers far more difficult to brew, like their Oktoberfest made with a double decoction mash, would be ruined with even an extra ounce of hops.
I agree, many have long believed the most extreme beers (ABV, IBUs, pH, and now NTU) are the best, while being a bit ignorant to understanding and appreciating the technical skill required to brew great beers in the traditional styles.
Between the numerous house brews and rotating taps of well thought out guest brews, Barley John's offers something for everyone to enjoy. The staff are extremely passionate about beer and are always happy to talk about it with anyone (when they aren't busy running between upstairs and downstairs trying to keep thinks on schedule while brewing in the tiny brewhouse).
The Food
Along with awesome beer, the food offerings at Barley John's have always been killer.
They've got one of the best burgers in the state (my great aunt owned Mickey's Nook, so I gotta show some love there). Made from scratch and with the fresh fixins you want atop, it's one I find myself craving frequently. Seriously, this burger is one of the prime reasons we end up heading to the pub many nights. The waffle fries are the perfect compliment to the burger, along with a great glass of beer, of course.
The homemade soups are truly fantastic. I've never had better anywhere, honestly. Even if you aren't feeling a full meal, the soup is a meal in itself and always sure to satisfy.
Where most skip the salads, Barley John's Brew Pub is one of the few places they're so good you've got to order them every time. Myself and friends always add a side salad along with our burger and other options.
Made with fresh greens and many ingredients grown in their own garden, it's not the iceberg garbage you get elsewhere. Every one of the house-made dressings are a good option.
Sometimes a salad and a pint are the perfect pair when dropping by mid-day or looking for something a bit lighter before dinner.
The specials are always must-try options. Each day Barley John's sources local and unique ingredients to offer some of the most interesting specials around. I've had everything from ostrich to elk tenderloin over the years and every time it's been an amazing meal.
The specials they put together for holidays like New Years Eve, Valentine's Day, and their anniversary (St. Patrick's Day) all stand out, but drop in any day and you're sure to find something interesting and outstanding to enjoy.
The People
When most look at a bar or restaurant, they simply measure it by the food and beer (liquor, wine, whatever). The service matters but unless it sucks, they don't give it another thought. At the best places, the people are really what make them so special. We wouldn't be celebrating 17 years of Barley John's if it weren't for so many awesome people in the brewery, behind the bar, in the kitchen, and drinking along side of you.
I've had the pleasure of knowing John and Laura for many years now. They're wonderful people, who love what they do. They're excited to share that love with everyone who comes through the door (or hangs out on their great patio). In addition to passionate ownership, the rest of the Barley John's staff show a love of their work too.
Hang out there often enough and you're bound to enjoy great conversation with the many regulars. They're a wonderfully laid-back group of folks from all walks of life who share a common love for the beer and comfort that Barley John's offers. There's always someone to spend the night chatting with, get advice from, or simply raise a pint with.
Wonderful people change a simple business into something far more special. A place that you can feel safe, loved, and at home. It's what sets Barley John's apart from the rest.
Here's To Many More Years And Beers
The beer, the food, and the people are what make Barley John's such a fantastic place to visit. They've kept it running for 17 years and will continue to do so long into the future. It's the perfect combination that keeps us all coming back.
Here's to many more years of Barley John's beers!