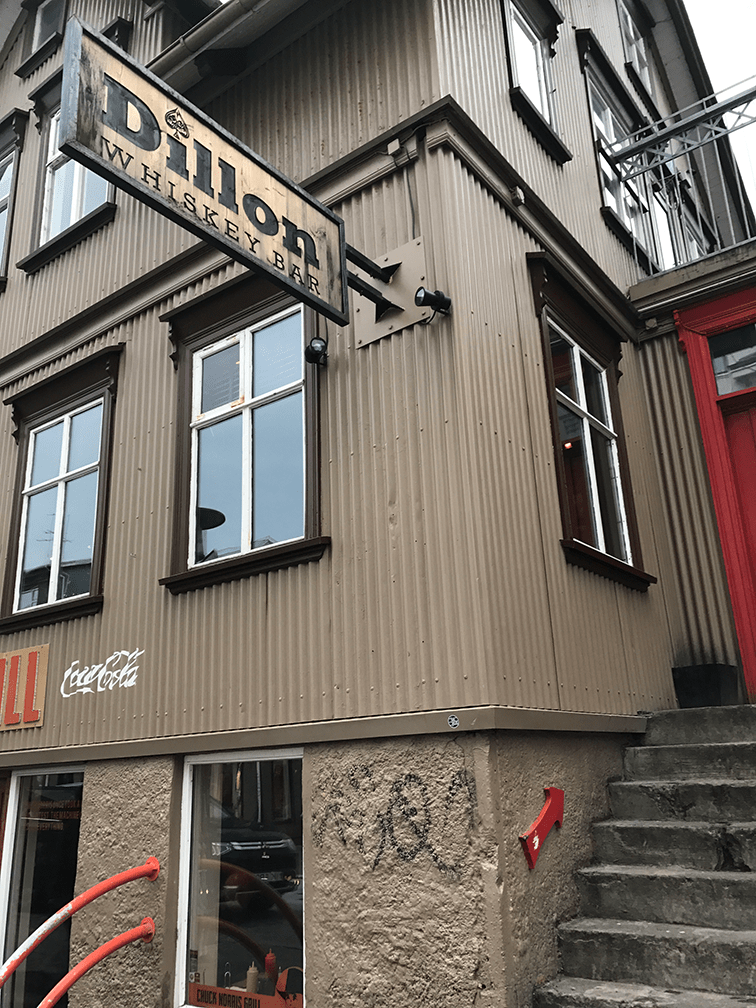 Looking for a quiet, warm place for a beer or a dram while visiting Iceland? Dillon Whiskey Bar is a great spot to stop in Reykjavik.
Visiting Dillon Whiskey Bar
Located upstairs from the Chuck Norris Grill (no, seriously) and through the red door, we had Dillon Whiskey Bar mostly to ourselves on both visits. The staff were just opening things up and we enjoyed some quiet time and conversation.
The bartender was very friendly and we chatted a bit while she got things ready for the day. They have a great spirit selection and she made a number of recommendations (though we saved the whiskey for the second visit).
The bar itself is small and quiet. Entering, we were met with the smell of a wood-burning stove heating the place (though I didn't see such a heat source), which brought about a sweet and welcoming aroma, mixed with just a touch of stale beer. A small bar that seats maybe ten and there are a number of small tables about the space.
Though we visited only during the day, the great whiskey selection and small space could certainly create potential for packed nights and a spirited atmosphere. They have live music frequently, which would be great in such an intimate space.
Beer Options
The beer list wasn't amazing, but those visiting are sure to find something tasty to try.
They have 5 beers on tap and about 8 options in the bottle. Everything available is made in Iceland, with the tap options being pretty standard at most bars in the area.
The beer isn't the focus here, but we found a nice local Úlfrún Session IPA to enjoy. These were our first beers in Iceland, having arrived early that morning and taken a quick nap at the hotel before venturing out.
Standard happy hour in Iceland means 1/2 priced beers, so two for ones it was.
Though we didn't eat there, they do have a small food menu, made up mostly of burgers (I'd guess they're made downstairs at the Chuck Norris Grill).
Other Arrivals
Another couple arrived during our second visit and the bartender was happy to make recommendations and share a bit of history for each option.
The middle-aged gentleman claimed to be a spirits enthusiast, but his lack of basic knowledge made it clear he was a beginner at very best. Don't be afraid to let others know when you aren't knowledgeable about beer or spirits, and let them guide you. American Tourist: always giving other American tourists a good name.
The bartender didn't let this bother her, and helped him find something to his liking, along with wine for his wife.
Travel On
With a couple beers in our bellies and our day plan determined, we wandered from the comfort of Dillon Whiskey Bar.
Warm, welcoming, and plenty of whiskey. It's a great stop on the Reykjavik strip. They might not have the best beer selection, but you're unlikely to find a better whiskey selection anywhere around and there are enough beer options for at least a quick stop along your trek.