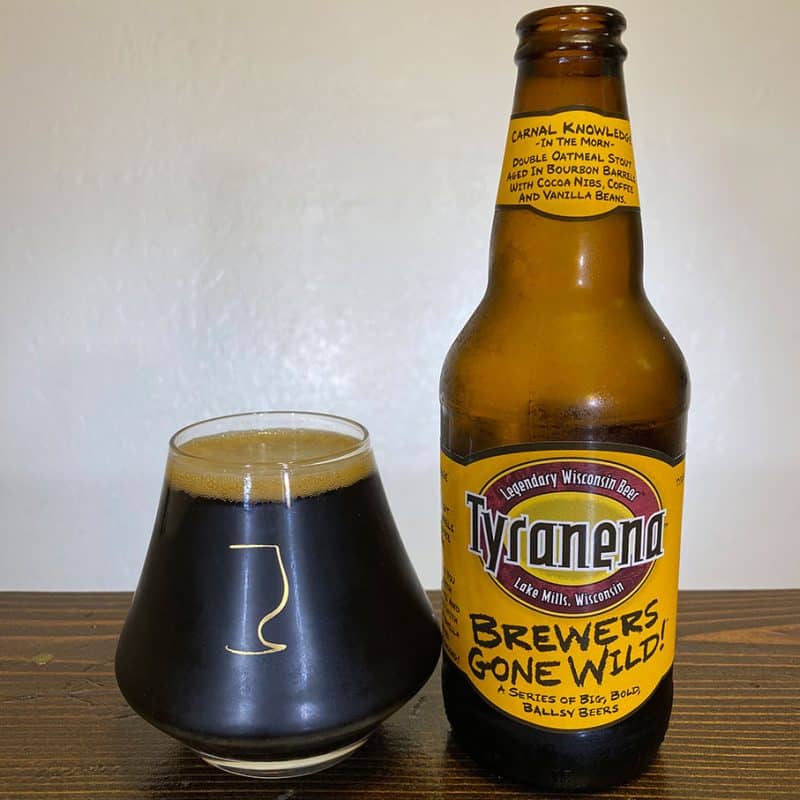 One of the very best with the barrel, Tyranena Brewing in Lake Mills, Wisconsin crushes it again. Carnal Knowledge In The Wood is barrel-aged double oatmeal stout that's spot-on.
Carnal Knowledge In The Wood
Tyranena has offered this brew before, without the barrel-aged element, but Carnal Knowledge In The Wood brings perfection to this deliciously dark brew.
Double oatmeal aged in rye whiskey barrels with cocoa nibs, coffee, and vanilla beans, has it all.
Chunky chocolate and vanilla aroma up front, with a bit of coffee, you could spend a good bit of time enjoying the aroma alone.
Chocolate, coffee, and oatmeal-creaminess are most apparent upfront. Vanilla comes in softly, not overpowering any of the other flavors and the cacao beans keep the chocolate nuttiness through to the aftertaste. It's not overpowering but there's a ton of flavor fun.
Wood Winner
Tyranena Brewing has made Carnal Knowledge a number of times over the years, as part of their awesome Brewers Done Wild Series but this barrel-aged version is a bump up. The rye-barrel tones things down, and at the same time it amplifies so many of the wonderful flavors, while adding bourbon notes.
Tyranena always amazes with their brews and Carnal Knowledge In The Wood takes another Brewers Gone Wild brew and makes it even better. Grab a glass. Maybe watch the namesake movie.