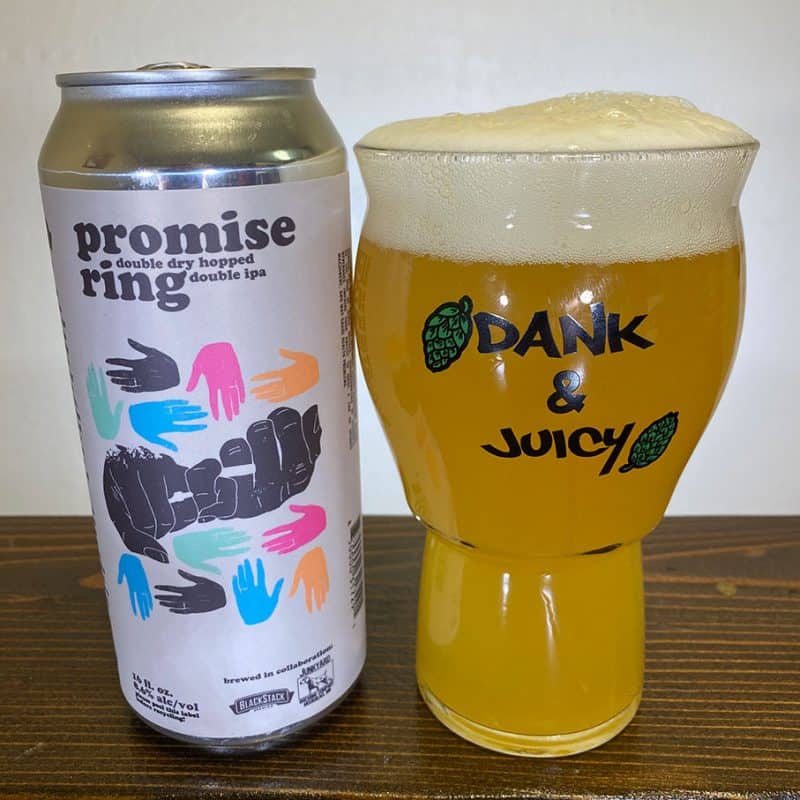 Sometimes, when brewers love each other, they want to make a commitment. They may not be ready to take that big step, but they want to be sure they remain together, and some day, they may take that next step. To symbolize that, BlackStack Brewing and Junkyard Brewing created Promise Ring DDH DIPA.
Promise Ring
This brew is a sign of the mutual love and respect these two brewers have for each other. BlackStack and Junkyard took one of the styles they know best, and crafted something that symbolizes that joint expertise with Promise Ring DDH DIPA.
It pours a hazy medium yellow with a frothy white head that settles, leaving sticky lace clinging to the walls of the glass.
Huge mango and tropical fruit aroma, with papaya and a touch of bubble gum.
Big juicy over-ripe mango and tropical tiki flavors. Pineapple, papaya, and juicy fruit, with a bit of dankness. Soft body and a medium malt backbone, that holds the big fruit hops up nicely.
Touches of tropical fruit on the aftertaste, and a nice dry finish with a bit of residual fruitiness.
A Promise Keeper
Double the dry-hopping and double the IPA, Promise Ring is a delicious collaboration of two Minnesota brewers that showcases their wonderful abilities. BlackStack and Junkyard created a delicious drink with plenty of hop hit.
Grab a 4-pack of Promise Ring or a glass at the BlackStack taproom and see the love these two have for each other, and their craft.