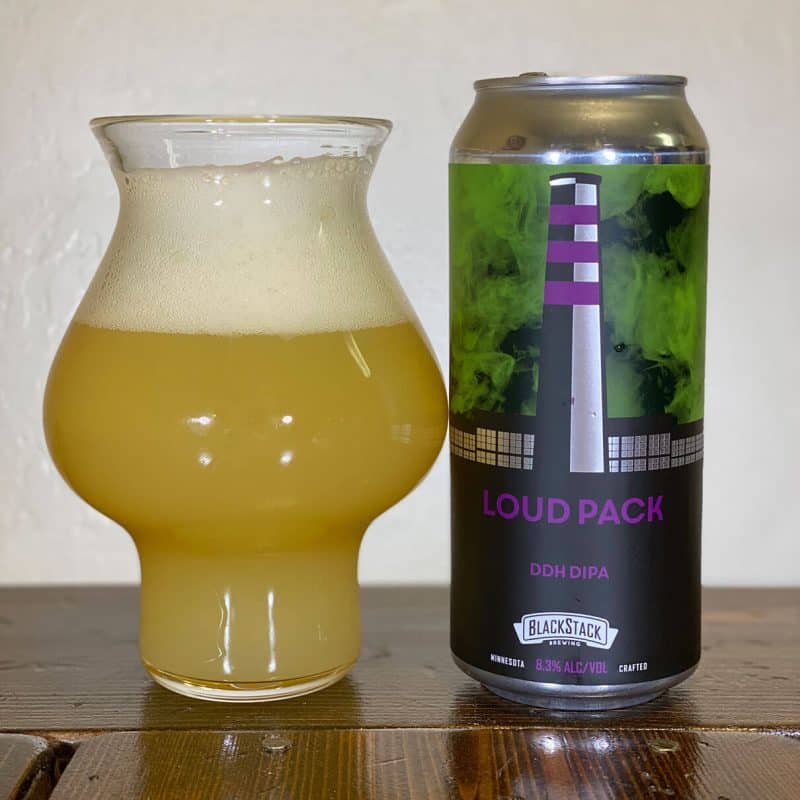 Time to drop the hop bombs and get loud. BlackStack Brewing Loud Pack DDH DIPA is filled full of crazy hop levels, imparting haze, aroma, and awesome flavor. Can you hear it?
Loud Pack
Hazy happiness is a BlackStack Brewing signature and this one is filled full of abundant hop happiness. Loud Pack is double dry-hopped double IPA action that's overflowing with fruit fun.
Filling the glass with a hazy golden straw color brew, a healthy head of white bubbles forms atop. The foam settles with time, and leaves just a little bit of lace at its top reaches, and a small white ring around the edge.
Take a sniff and you're slammed with citrus. Big pineapple, grapefruit, orange, and lemon. Apricot and mango are present in the aroma too.
Super smooth sipping, over abundance of Citra, El Dorado, Mosaic, and Galaxy hops hits the tongue with tons of fruit flavor. Waves of juicy over-ripe pineapple, mango, papaya, and a touch of lemon. It's so juicy and smooth, packed full of thick fruit flavor with no hint of bitterness.
Turn It To 11
Loud Pack offers lovely tropical fruit tastes, with a super smooth and juicy hazy happiness. Beautiful aroma and thick juicy flavor, it's pumped up and loud enough to shake the hopheads heads.
Grab a 4-pack from Twin Cities liquor stores or a crowler direct from the BlackStack Brewing taproom. Loud Pack is full of plentiful hop action that's sure to hit at deafening levels.