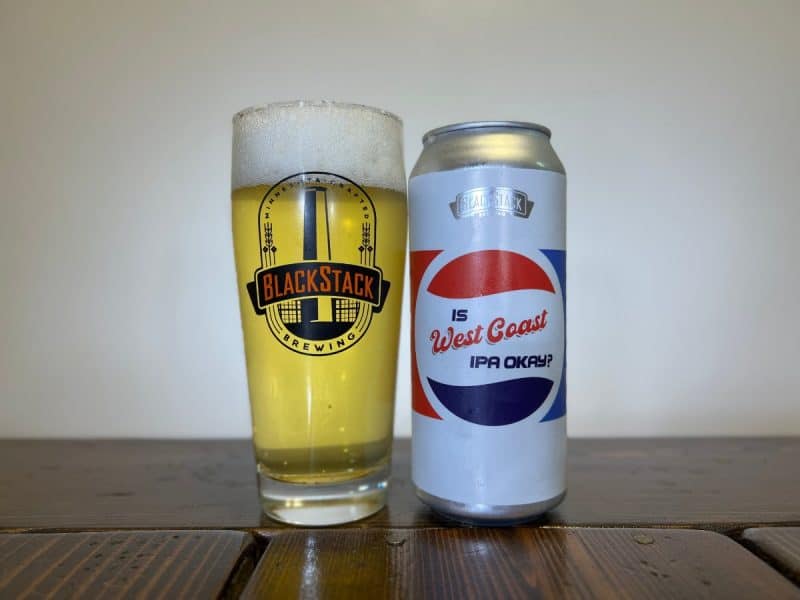 "Ya'll have any of them hazy IPAs?" Sorry, we don't. Is West Coast IPA Okay? is BlackStack Brewing's answer to a question they get a lot and a reminder that West Coast IPA is still good today.
Is West Coast IPA Okay?
The BlackStack Brewing boys are known as murk merchants. They purvey haze for days. But while they hit hazy home runs week after week, they do know how to brew a non-hazed brew. Is West Coast IPA Okay? is a reminder of a time when IPAs were clear, generally crisp, and bitter brews.
It pours a clear, light golden color, with a frothy white head floating atop. The bubbles eventually settle and don't leave much in the way of lacing on the walls of the glass.
It smells of citrus, with grapefruit and pine being plentiful in the nose. There's some dankness and just a touch of malt sweetness in the aroma.
The smooth and slightly-sweet malt upfront is just enough to balance the bitterness and hops hitting here. Simcoe, Mosaic, & Strata hops bring plenty of fruity notes. There's subdued citrus with light grapefruit and lemon mingling nicely with dank flavors and light piney pungency. The finish is nice and clean, with only a bit of sweet citrus in the aftertaste.
West Coast Is The Best Coast
In these days of hazy IPAs we often forget the former hype-king. West Coast IPAs were the most sought-after IPA variety for over a decade before hazy IPA took their crown away. That doesn't mean they aren't still delicious drinking.
Grab some Is West Coast IPA Okay? from BlackStack Brewing and enjoy a taste of clean and clear IPA action.