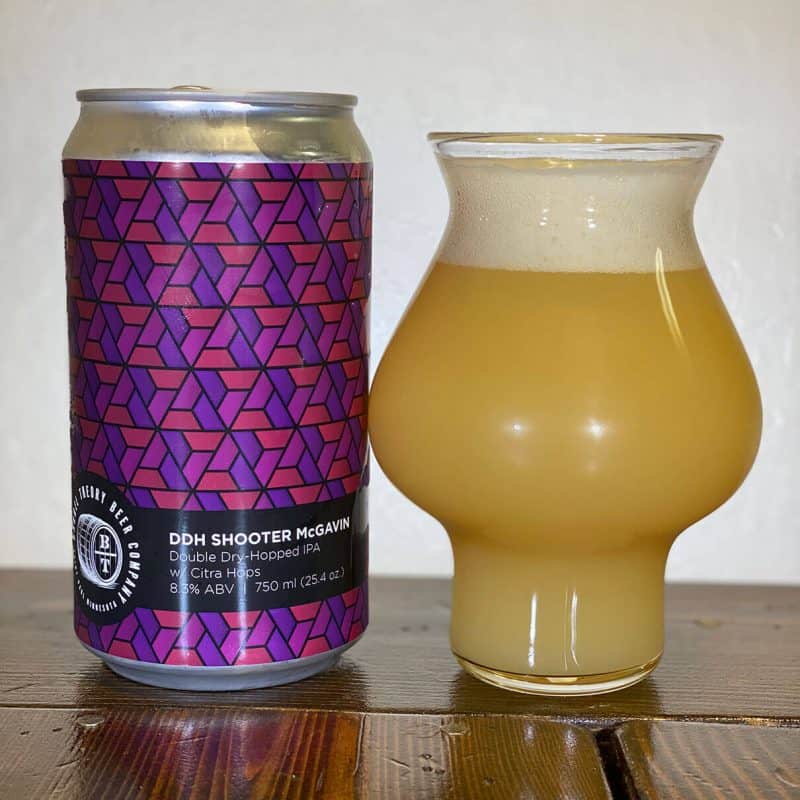 You're in big trouble though, pal. I drink beers like this for breakfast. Barrel Theory added a double dry-hopped dose of Citra hops to their double IPA to create DDH Shooter McGavin. Yeah, right. And Grizzly Adams had a beard.
DDH Shooter McGavin
Shooter McGavin is a double IPA that's hopped exclusively with Citra hops. This double dry-hopped version has even more of those wonderful little citrus cones crammed in. Time to play a round with it. Stay out of my way… or you'll pay! LISTEN to what I say!
Just look at this brew. It's so matte milk-ish golden yellow and beautiful to gaze at. There's bubbly white foam atop, that settles and leaves clinging lacing on the walls of the glass.
Huge grapefruit and delicate pine aroma. Lemon and citrus, with a shot of bubblegum. It's one that makes you want to simply sit and sniff for a while, but eventually you've got to turn to the delicious act of drinking.
There's so much juicy fruit in the flavor. Bubblegum and then sweet citrus (no bitterness here). Strawberry and Juicy Fruit gum on top of melon and over ripe papaya. While the flavor is huge, the mouthfeel is super soft and allows the juiciness to be enjoyed without distraction.
Gold Jacket Worthy
Shooter McGavin is a great double IPA. The double dry-hopping adds an extra delicious element to this already awesome brew and brought even more citrus hop hit. Teed it up and crushed it.
Barrel Theory DDH Shooter McGavin hits a hole in one. Grab a crowler from the Barrel Theory taproom while you can.