The holidays are here and it's time to start thinking about what to get the craft beer lover's on your list! Here are some awesome gift ideas they're sure to love.
National Geographic Atlas of Beer: A Globe-Trotting Journey Through the World of Beer
The spirit of exploration is what drives beer lovers to seek out new brews and experiences. The new National Geographic Atlas of Beer is filled with stunning photography, history, awesome drinking-destinations, and beer knowledge from around the world.
This book is sure to feed the thirst for knowledge beer lovers harbor, and inspire them to keep exploring this wonderful beverage, all around the world.
Pick up a couple copies of the National Geographic Atlas of Beer: A Globe-Trotting Journey Through the World of Beer from Amazon now and give your beer lover the gift of awesome education this holiday season.
The Oak Bottle

Experimentation is one of the many things that make craft beer fun. The Oak Bottle lets your beer lover oak-age their own beer (or spirits and wine) and experiment all they like.
Pour a beer into this oak vessel, let it sit for a few hours, and you've got an oak-infused version of whatever you've filled it with. I've also tried adding vanilla and a bit of bourbon, with awesome results.
Get your craft beer lovers The Oak Bottle on Amazon now, and let their experimentation go wild!
Beer Bomber Jackets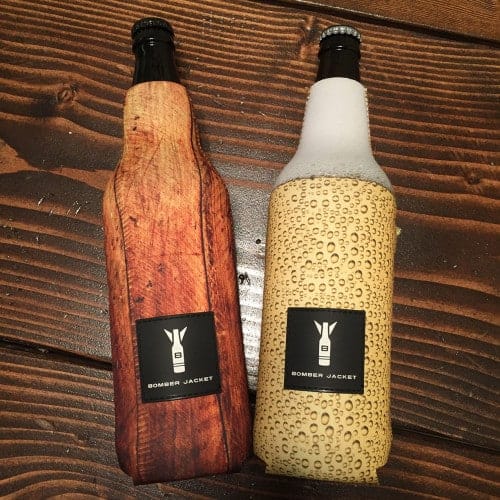 Coozies are cool, but Beer Bomber Jackets are better. Give your beer lover a way to dress up their bottle with these awesome unique koozies for their brews.
Available in a wide range of patterns and bottle sizes, Beer Bomber Jackets are the cool way to keep your bottles cool.
Grab a Beer Bomber Jacket or two for the beer lovers in your life on their website now!
Cap Zappa Beer Bottle Opener
Looking for the perfect stocking-stuffer for the craft beer lovers on your list? The Cap Zappa Beer Bottle Opener is the best way open our favorite beverage and then have some fun with the cap. Soon you'll be drinking beers just so you have more ammo to shoot.
Grab a Cap Zappa Beer Bottle Opener from Amazon now.
Crownhole – The Bottle Cap Bouncing Game
Beer pong is fun but takes up too much space. Get your beer lover a game they can play anywhere, without the stigma of a college drinking game.
Crownhole takes the skill of bags, and miniaturizes it! Bounce your beer cap and hit the hole. It's that simple but takes plenty of practice and skill.
Get your favorite beer drinker a Crownhole board they'll love this holiday.
The Comic Book Story Of Beer
Most craft beer fans know much of the history, but few have seen it told in this way. The Comic Book Story Of Beer is an illustrated history of the beverage we love.
The book contains beautiful art, a detailed history, and includes some stories you won't find in other chronicles of brew.
Pickup a copy for the beer lovers on your list by grabbing a copy of The Comic Book Story Of Beer from Amazon now.
GrOpener Bottle Opener
You've got to be able to open them to enjoy them, so a good bottle opener is a must for every beer fan. The GrOpener Bottle Opener makes it as easy as grabbing and gripping your bottle.
This bottle opener makes leveraging any bottle open easy. An embedded magnet holds the cap so it doesn't go flying when you pop bottles.
Buy a GrOpener Bottle Opener for your beer lover from Amazon now.
Small Batch Crafted Pins
Give the craft beer lovers on your list a piece that allows them to show off their love of beer on anything they wear. Small Batch Crafted Pins offer a stylish way to show your love of beer.
I've been rocking a growler pin on one jacket and a hop on another for nearly a year, and I can't tell you how frequently they're the cause of conversation. These great looking pins are such a cool little craft beer accessory that every beer lover will enjoy.
Check out the Small Batch Crafted Pins website to order your pin pack now!
Original Grain Brewmaster Watches
Want the ultimate fashion accessory for the craft beer lovers on your list? Check out the Original Grain Brewmaster Watch collection!
Each great looking watch is made the wood used to barrel-aged a beer. Just as each barrel is unique, the watch too sports a one-of-a-kind look, thanks to the beer-barrel used in its construction. Brushed steel gives it a contemporary look that goes with any outfit.
Save $50 off your purchase of an Original Grain watch by clicking this link.
Beer Cap Maps
Let your craft beer lovers show their state pride with a Beer Cap Map in the shape of their favorite place!
Available in every state plus numerous countries (check them all out), Beer Cap Maps are the perfect way to show off your bottle cap collection.
Take a look at all the different Beer Cap Maps options and give your beer lover a great gift this holiday season.
Trinken In Public
We've all had times when we want a beer but it may be frowned upon. Not anymore when your beer lover has a Trinken.
Hide your beer away with what appears to be a common coffee cup. Inside sits a much better beverage, beer.
Get a Trinken cup for your beer lovers and save 10% by clicking here now!
BACtrack Mobile Pro
Keep your craft beer lovers safe by giving them a better way to know their limits. The BACtrack Mobile Pro is a smartphone connected breathalyzer that allows you to always known when you've had too much to drive.
Easy to use and connected to your smartphone, this breathalyzer not only helps you track your blood alcohol content but also has the ability to call for a ride when you've had too much. It also helps you learn your limits by letting you guess and then confirm your BAC, saving previous results too.
Make sure your craft beer fan knows when to say when by buying them the BACtrack Mobile Pro on Amazon now.
Craftman Bottle Cap Wrench
Everyone needs a great bottle opener and this one will last a lifetime. The Craftsman Bottle Cap Wrench is the most heavy-duty bottle opener you'll find.
Make from solid steel and backed by a lifetime warranty, this bottle opener makes even the most stubborn bottles easy to open.
Grab the big bad Craftsman Bottle Cap Wrench from Amazon now and give the gift of access to our favorite beverage.
The Oxford Companion To Beer
Beer lovers enjoy collecting knowledge about their favorite beverage almost as much as they enjoy collecting beers themselves. The Oxford Companion To Beer is the ultimate reference every craft beer fan needs.
With over 1,100 entries from A-Z, this book is filled full of information about beer. Even seasoned drinkers will learn a thing or two and it's a great book to keep around the home bar.
Grab a copy of The Oxford Companion To Beer on Amazon now for all the beer fans on your list. Give the gift of knowledge this holiday season.
Craft Beer Lover's Holiday Guide
Getting the perfect gift for the craft beer lovers on your list is easy. Grab them a thing or two from this list and you're sure to make their holiday merry. Be sure to include a six-pack of their favorite beer too.