Cellaring beer is something many of us enjoy.  Putting bottles away for a later date to see how things change and evolve over time can be very rewarding.  For many of us, storing all this precious beer can be an issue.  Old beer case boxes may work but they degrade over time and can't be stacked high.  They aren't overly sturdy and the weak bottoms can come open, causing your brew to meet an unfortunate end on the cellar floor (I know a number of beers that have been lost this way).  Thats where the Brewbicle comes in.  I met up with the guys behind it and was given my very own to checkout.
The Brewbicle is a beer storage system that allows you to store and stack your beer cellar, keep it all organized.  The wood construction is high quality and very sturdy so it'll last for years.  No worries about it different height bottles making stacking a problem.  With heavy-duty leather straps to carry and move the Brewbicle around, it's much easier to move than the handles on cardboard cartons that dig into hands and are prone to rip.
Inside you'll find adjustable bottle dividers.  The divider configuration can be changed to allow storage of either 25 x 12oz bottles or 16 x 22oz and 750ml bottles.  In the picture above, you can see that it's no problem to store both 22oz bottles along with 750ml bottles in the Brewbicle with the dividers keeping the bottles from clanging together when moved around or transported.
On the lid, there is a nicely sized area where you can write the contents of the Brewbicle with a dry-erase marker.  This is great for keeping inventory and allowing you to see whats inside at just a glance without the need to open things up and pull bottles to figure out the contents.  A hefty leather pull allows you to slide the top open quickly and easily.  The recessed lid also allows the feet on the bottom to fit into the lid area insuring more secure stacking of multiple Brewbicles.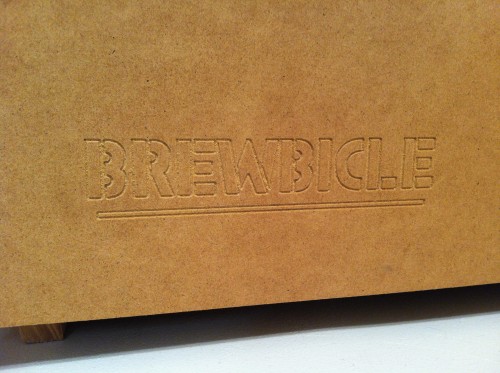 The Brewbicle features a nice laser cut logo up front.  Additionally, for a small additional fee, you can have your own logo or graphic cut on the front of your Brewbicle.  Pretty sweet option for those that want to customize their beer cellar storage, making it unique or those looking to give a customized gift to a craft beer lover in their life.
The Brewbicle is a great option for those with basement cellars that are looking for a way to keep things organized or those living in apartments where space is a premium.  The Brewbicle is even classy enough to make a nice little end table in your drinking room while storing your precious cellared beers inside.  After loading up the first one it's become clear that I'm going to require several more to keep my bounty of brew cellared safely.  This time I think I'll opt for the custom engraved option.  Be sure to checkout the Brewbicle website here and add some to your cellar.