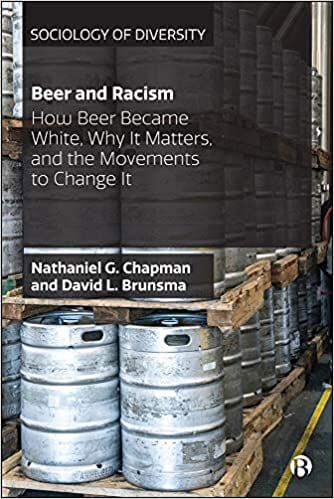 As the craft beer market has grown exponentially, many things have changed. One that hasn't, is the fact that it's remained a white man's industry. From brewers to buyers, white males have dominated the beer world. Why has this been the norm and how may it change? That's the topic explored in Beer and Racism: How Beer Became White, Why It Matters, and the Movements to Change It by Nathaniel G. Chapman and David L. Brunsma.
A Look At Beer and Racism
If you've been to a brewery, a beer fest, or even a beer bar, you've likely noticed that they're very white places (or maybe you haven't, as we tend not to notice such when the crowd all looks like we do). Beer and Racism takes a look at the role that race has played in the beer industry throughout history and the current situation within the craft beer industry.
It starts with a short history of beer in the US. When we're told the story of the start of American beer, the fact that Black and female brewers made up a large percentage of those making beer is largely absent from those histories. There is some insight provided to this hidden history, though it would have been nice to explore deeper and learn more about the role they played in the birth of beer in this country.
Post-Prohibition, the growth of what is now the Big Beer industry is looked at, with white German men leading the way. Quickly things move to the distribution side of the three-tier system, where the authors find some of the largest issues. Distributors choose which beers to bring into which markets, and because they don't bring craft beer into Black markets, there's not an opportunity for exposure to craft beer within those areas. Without widespread exposure, it's unlikely to find a following within these communities.
Ways in which the Big Beer industry has targeted Black drinkers with offerings like malt liquor are also examined. Advertising, marketing, and the role they've played in pushing certain products on communities of color.
The craft beer industry is then born and as it is now, it's almost exclusively white-owned and run. Topics like access to jobs within the industry, brewery/taproom location, and more are all shown for their predominance to block out Black and people of color.
In the final section of the book, some insights are provided by various people in the beer industry. Distributors, brewers and brewery owners, social media influencers, and others, all share their thoughts on the challenges the craft beer industry faces with racism.
Situation Without A Solution
While Beer and Racism presents a good look at the problems with race in beer, it doesn't do much in the way of providing (or even looking at) solutions. It's a report on the state of the industry, with regards to racial issues but the opportunity for change is absent. Most anyone picking up a copy of this book already understands that there are big racial inclusivity issues that the beer industry needs to solve. How we can make it happen would have been helpful.
It's a hard read. Beer and Racism certainly comes off more like a research paper. Much of it is quoted from the works of others, and the writing style isn't easy going. Being authored by two academics is likely the reason for this lack of flow, but many others do a better job presenting the information in a much more easy and engaging way.
Build A Better Beer Industry
The first step in solving any problem is understanding it. Beer and Racism is a good look at the problems facing the current craft beer industry. It's a frank exploration of where many of the issues appear, from brewery to beer buyer.
Grab a copy of Beer and Racism: How Beer Became White, Why It Matters, and the Movements to Change It from Amazon now. Educate yourself and commit to helping bring change to make the beer industry more inclusive for everyone. We can make craft beer so much better together.
Organizations Helping Make A Difference
If you'd like to get involved in making a difference in the craft beer industry, groups are doing great work to make it happen.
Brewing Change Collaborative is fostering diversity, equity, and inclusion for people of color in the brewing industry through advocacy, outreach, and education.
Witch Hunt creates beer education opportunities and advocates for marginalized genders and queer folx within the craft beer industry. Check them out and get connected with them.
You can also find several scholarships and programs to improve diversity across the wine, beer, and spirits industry here.