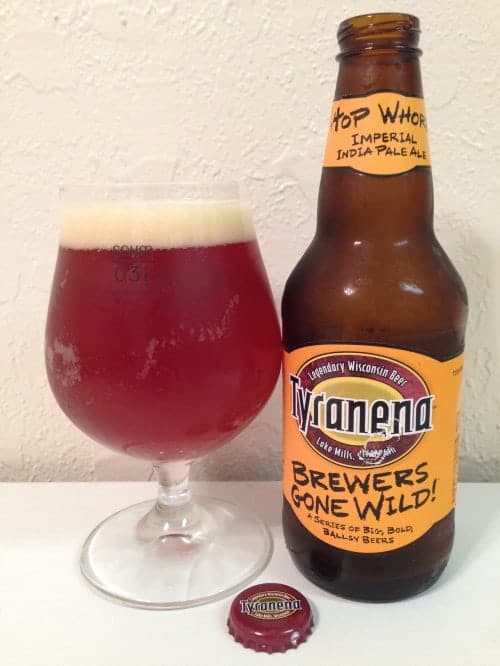 In a small Wisconsin town, just a couple minutes down the road from Madison, Tyranena has been brewing some of the best beers in the state for years.  While great year-round brews like Bitter Woman IPA, Rocky's Revenge, and Chief Black Hawk Porter are deliciously available any time, occasionally they have to let brewer/owner Rob blow off some steam.  The Brewers Gone Wild series of beers features big, bold, and ballsy brews that delight.  Hop Whore is your delicious little mistress from your favorite little cones.
Brewers Gone Wild beers have always brought big flavor to the bottle and Hop Whore is a hopped-up imperial IPA that is packed with hop aroma and flavor.  It pours a beautiful reddish copper and packs a great citrus aroma and flavor.  There's a nice sweetness to it and then a fairly dry finish with plenty of hop bite and bitterness.  The 7.5% ABV is well hidden here as this whore knows how to do you right.  Like any good whore, this one has a great body and satisfies while leaving you wanting more when it's over.
While the various beers in the Brewers Gone Wild series come and go with no set schedule or guarantee that they will return again, Hop Whore has made a couple of return appearances.  Be sure to seek out this delicious lady but know you won't be able to give it just the tip, er, sip.  Find out more about Tyranena Hop Whore and their Brewers Gone Wild Series here.