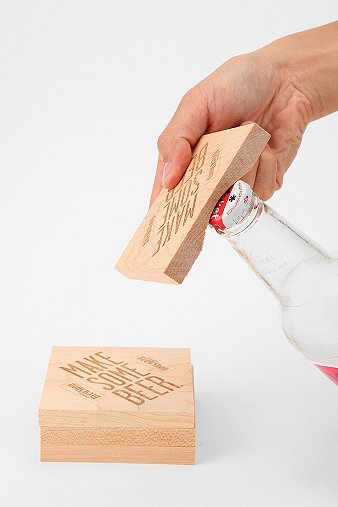 Beer may often be thought of as a blue collar drink but that doesn't mean those that drink it are slobs. We occasionally over pour a glass and we don't want to leave a wet ring on the coffee table so use a coaster. Problem solved. But how often do you just have a single beer in a sitting? How often do you get back to the couch with a fresh brew and realize you forgot your bottle opener (yes we know some of you can open a bottle using just about anything)? What if your coaster could do more than just keep your wife from yelling at you about messing up the coffee table? The Brooklyn Brew Shop Coasters have a built-in bottle opener that kills two birds with one stone.
Brooklyn Brew Shop Coasters prevent your brew from making a mess on the table and flip them over and you have a bottle opener handy any time you need to open another tasty beer. Made of a classy looking wood, these coasters will fit in with most any home decor. The bottle opener is hidden out of sigh on the bottom of the coaster so it won't look like you have a drinking problem with bottle openers laying all around the house.
Everyone needs a nice set of drink coasters. Being able to have a beer bottle opener handy whenever you need it is nice too. Combining the two must-have items into one makes things even easier. Your coasters are always around when you need them and now your bottle opener can be too. Get your Brooklyn Brew Shop Coasters here.